Skip to Content
Durable Rubber Roofs for Your South Shore Home or Business
Rubber roofs are new to the residential roofing industry, after having been used in commercial applications more frequently in recent years. Rubber roofs are best used on flat, commercial roofs, which is why this has been their primary role since the material was developed as a building medium. These days, more and more homeowners are learning about the unique appeal of rubber roofs.
As important as it is to choose a high-quality material for your roof, the installation is equally vital. With Pro Roof Solutions, you'll get a new rubber roof that performs at its best due to the expertise of the team that installed it. Contact Pro Roof Solutions today to learn more.
Benefits of Rubber Roofing Installation
Whether you're having a roof installed on a new build or getting the roof replaced at your home or business, you should consider using rubber, also known as ethylene propylene diene terpolymer, or EPDM. Here are some of its key benefits.
First, rubber roofing material is affordable, both to purchase and to install on your home or business. Many average roofers are not as experienced when it comes to installing EPDM roofing. The installation teams at Pro Roof Solutions aren't just experienced; we specialize in rubber roof installation on commercial and residential structures. Most rubber roofing is laid out in as few sheets as possible, minimizing seams and potential leaks.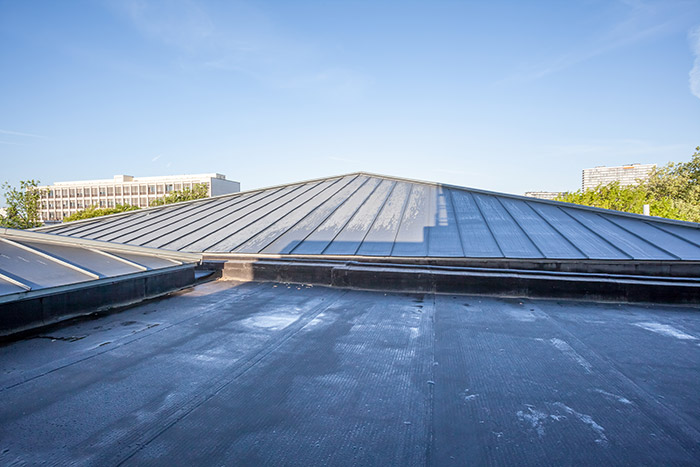 Another benefit of rubber roofs is an industry-leading rating for durability. While other roofs may be susceptible to wind and rain over time or break down with heavy heat and UV light, rubber roofs are resistant to heat, sunlight, wind, and rain, and are even fireproof. This allows the home or business owner some much-needed peace of mind.
Because of its durable nature, a rubber roof can last up to 50 years with little to no maintenance. Painted rubber roofs only need a fresh coat every 10 years or so. If a repair is needed, the process is simple. Most leaks can be fixed by using a single tube of liquid rubber to patch holes.
Great for Homes and Businesses
In the history of rubber roofs, EPDM material was widely used for commercial installations for a few primary reasons:
Ease and low cost of installation, leading to minimal work delays during the job
An extremely long lifespan
Resistance to elements that may threaten the livelihood of a business: fire, water damage, storms, etc.
Easy to put on flat, commercial roofs in one piece, minimizing seams
Today, more and more homeowners are considering rubber roofs for a similar set of reasons:
Cost-effective installation
Long life and ability to keep families safe from fire, water damage, storms, etc.
Versatility: Rubber roofs may be painted any color to match the style and design of the home.
For more information about rubber roofing installation, start with a consultation from the experts at Pro Roof Solutions in Milton.
Schedule Your Free Estimate Today!